Don't miss your discount!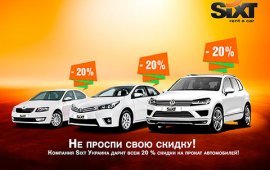 During the March Sixt Ukraine gives everyone a 20% discount on car rental in Ukraine! ️
How can you get it:
From Monday till Friday 09:00 - 11:00 a.m. call our call-center +38 044 383 000 6 and book a car.
Don't forget to say the code phrase "Happy Hours".
Wake up, call us and get 20% off on car rental!
* Discount does not apply to special rates and valid rentals. Discounts are not cumulative.