To Bukovel with SIXT Ukraine!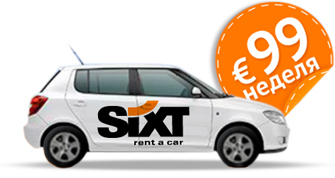 If you want to have a brilliant rest don't forget about Bukovel! Bukovel is a piece of skiing Europe which attracts millions of tourists every year. The resort is located at the foot of the mountain and thoroughly protected from cold winds by Carpathian tops so here you won't freeze but you'd better take with you warm clothes! Incredibly fresh air, aroma of needles, frost, snow and smell of mountains … It is Bukovel! The atmosphere in Bukovel is inexpressible! People come here not only to ski but also just to have a rest. But for those who love alpine skiing the word "Bukovel" is filled with a special sense.
And really! Why to go to the other end of the world where everyone speaks foreign language when there is beautiful place absolutely close to you – a place with perfectly prepared routes, the best service and smart nature. The best way to reach Bukovel is a car. Especially from Ivano-Frankivsk, and with Sixt Ukraine rental car it is incredibly favorable!
Only in winter 2014-2015 7 days car rental from Ivano-Frankivsk to Bukovel from 99 Euro!
Traveling by car you'll get the maximum mobility, you will be able to find any hotel and if you are a professional and take with you all your ski equipment, you will definitely not find alternative for a car.
You can book a car calling Sixt Ukraine round-the-clock call center where our managers answer all your questions: +38(044) 383-000-6!
Rest in Bukovel will give you the chance to distract from city bustle and to fill your cold days with energy and good mood!
Travel with Sixt Ukraine!