Zaporizhzhia Car Rental
Car/Combi | EDMR
VW Polo, Skoda Fabia
book
Car/Combi | EWMR
Renault Logan MCV
book
Car/Combi | EDAR
Skoda Fabia, VW Polo Sedan
book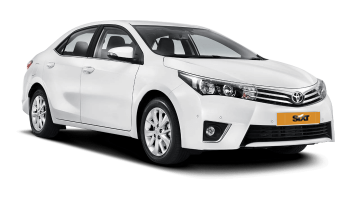 Car/Combi | CDMR
Toyota Corolla
book
Car/Combi | CDAR
Seat Arona, Toyota Corolla
book
Car/Combi | CWAR
Seat Leon, VW Golf Variant
book
Car/Combi | FDAR
VW Pasat, Toyota Camry
book
4x4 | PFAR
Volvo XC 90, VW Touareg
book
4x4 | SFAR
Seat Ateca, VW Tiguan
book
4x4 | LFAR
Audi Q8, BMW X5
book
4x4 | FFAR
Toyota RAV4
book
* The vehicles availability for car rental in Zaporizhzhia depends on the fleet utilization. To find out if the car group is really available please fill in the Order with all the necessary rent details.
Car hire in Zaporozhye with SIXT Ukraine
If you come to us in Zaporizhia you don't lose your time. The only way you can really feel this warrior spirit of the Ukrainian Cossacks, the spirit of freedom and struggle of Ukrainian people is to come to Zaporizhia. Zaporizhia is one of the oldest cities in Ukraine. The city is located on the Dnieper River, and still keeps the history and legends of Zaporizhye Sech and Ukrainian Cossacks.
Zaporizhia is a very green city, what is not typical for industrial city. The greenery surrounds streets, squares and parks and on the banks of Dnieper you can enjoy tree-lined avenues. SIXT Ukraine with great pleasure gives you a rental car and you will not miss the most interesting things on our city when you arrive, as well as offer the most exciting route through the city and its surroundings.